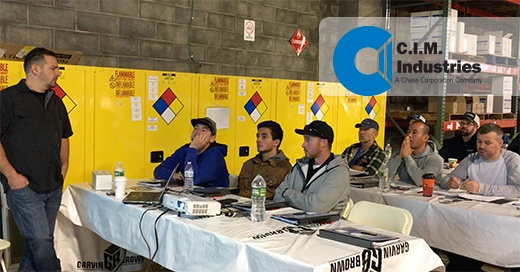 Factory-Trained Applicator Program* is Back!!
The purpose of the training program is to familiarize participants with all aspects of applying CIM high performance coatings and liners. At the end of the training you will know:
When and where to use the correct CIM
Surface preparation, inspection issues and
Recommended project staffing, skill requirem ents with h ands -on
Proper application techniques and requirements with hands-on demon- strations.
When: March 27th., 2018
Agenda: 8:30 am Start Time
Factory Trained Applicator
CIM Coatings, Linings and Supporting Products.
Lab Session: What Can Go
When, Where and Why To Use CIM
Surface Preparation, Inspection and Defect Identification.
Environmental Monitoring
CIM Material Preparation
CIM Coating Application Methods and Equipment
Joint Sealant Design and Installation with CIM
Coating Inspection and Problem Resolution
Where: CIM Industries, Inc.
6900 Nelms Street, Houston, TX 77061
*Completetion of CIM factory trained applicator program is required for contractors to bid on specifications where factory training is required